Good Living is a scalable 3D laser scanned VR artwork for online and immersive VR exhibition, based on botanical gardens with CGI and AV content co-produced with indigenous contemporary artists exploring the relationality of the plants, responding to the present climate and ecological emergency.   Lead artist Jaime Jackson – a partnership between Climate Museum UK, Transformance Institute and Culture Declares Emergency, linking with Birmingham as part of the Biophilic City Network
Good Living discussions will bring together artists, researchers and activists exploring the creative practice of Indigenous artists. Honouring the value of indigenous relationality in the time of ecological and climate crisis, the speakers will explore a sense of kinship that extends beyond human and individual relations to embrace more-than-human species of plants and other animals.
The one sessions will explore how the unlearning of our separation from nature can illuminate our experience, and challenge western binary and human-centric thought. With interdisciplinary researchers from the University of Birmingham, UCL London and Ethnobotanists from the University of Venice Biocultural Diversity Lab, University of Venice (Italy) as well as indigenous artists from Australia, India and Canada. Part of the Lab team is involved in the Divided Generations (ERC-StG-2016 DiGe) project which aims to create an advanced understanding of the mechanisms of changes in local ecological knowledge in respect to plant uses across minor ethnic groups. And recently the discussions included aspects related to art and local ecological knowledge e.g. workshop at TNOC (The Nature of Cities Festival) 2021.
Good Living forums for the Being Human Festival 2021:
Good Living mood boards
https://hubs.mozilla.com/ayQ62x9/definitive-bleak-exploration
Professor Mat Disney has been involved in some exciting work measuring what is likely to be the tallest tree ever measured in the tropics, in the rainforests of Sabah, Malaysian Borneo. The tree, nicknamed "Menara" or Malay for "tower", may also be the tallest angiosperm (flowering plant) in the world, a title currently held by "Centurion", a Eucalyptus regnansin Tasmania, Australia, measured at 99.67 m in 2016. Menara is a Shorea faguetiana (common name Yellow Meranti), of the Dipterocarpaceae family that dominates the humid lowland rainforests of SE Asia, and is 100.8 m from top to ground. It was originally identified in airborne lidar by a team from Nottingham University and partners including the South East Asia Rainforest Research Partnership) in 2014. The tree was then located on the ground by a Malaysian team and climbed and measured by Unding Jami. Phil then helped train local researchers to operate UCL's laser scanner, in conjunction with a team from Oxford University led by Allie Shenkin.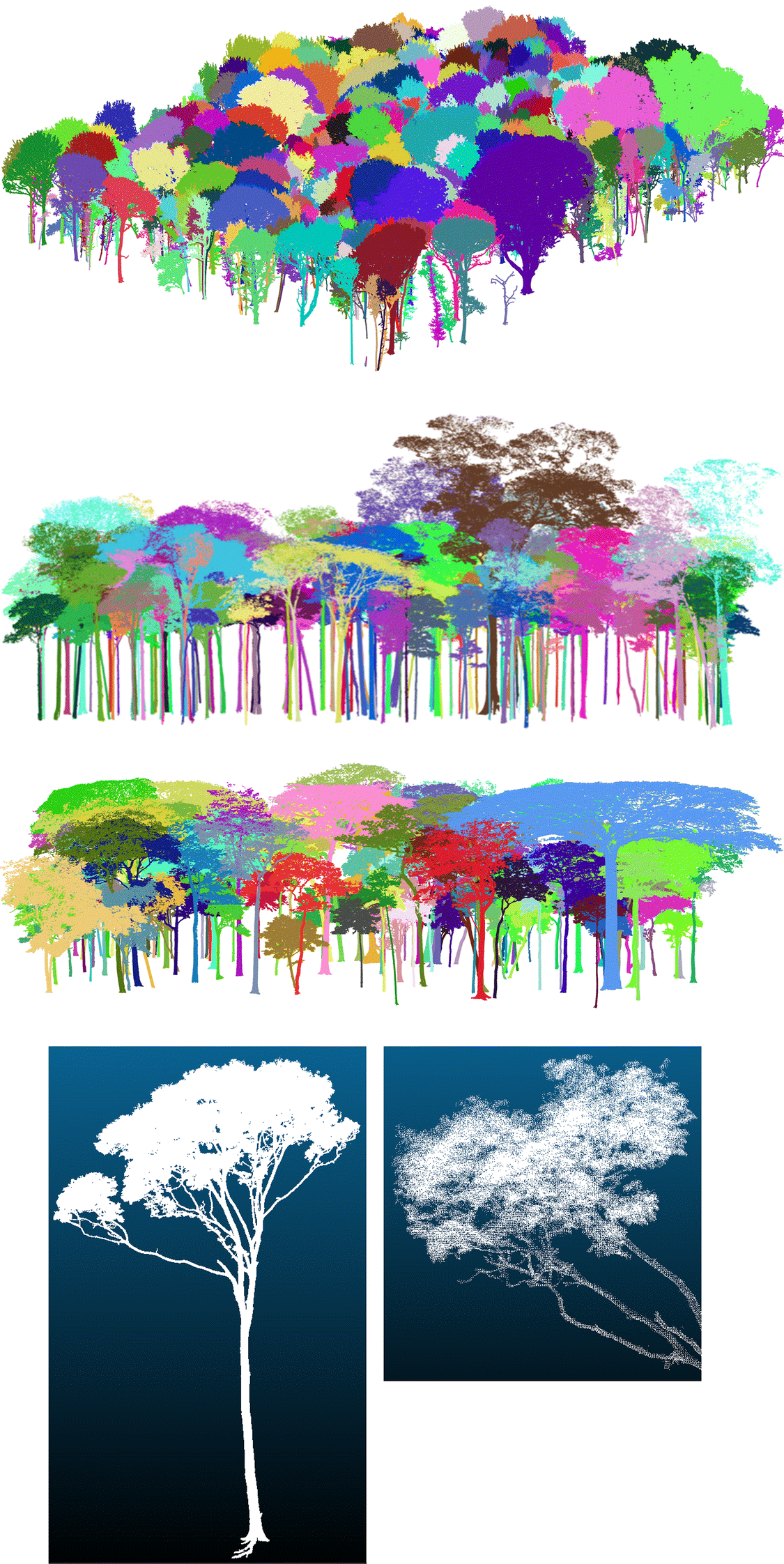 Above images from Disney et al. (2019) showing various examples of TLS point clouds.